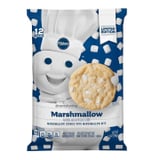 The Pillsbury Doughboy is back at it again with his cute little laugh and more extra large cookies than our wallets can handle - this time in the form of Marshmallow Sugar Cookies! In a truly sweet post, Candy Hunting shared the news of the launch on Instagram and explained that the ready-to-bake cookies are marshmallow and sugar cookie-flavored, with little bits of actual marshmallow in every bite. With a drizzle of chocolate on top, they're basically the s'more cookie we all want (and deserve).
Related:
3-Ingredient Hot Chocolate in 3 Minutes
And that's not even the best part! While typical ready-to-make Pillsbury cookie dough is sold with 24 cookies per package, the Marshmallow Sugar Cookies will be sold at 12 cookies per package - which means they're going to be BIG. According to Best Products, the limited-edition cookies will go on sale beginning March 1 at retailers across the country, including Target, Walmart, Kroger, Wegmans, Meijer, and Hy-Vee. With little pockets of marshmallowy goodness baked right into each cookie, I can only imagine that...