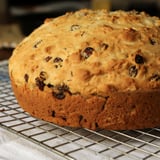 Many St. Patrick's Days ago when I first started working for POPSUGAR, my colleagues Maggie and Lizzy Eisenberg brought in this Irish soda bread, courtesy of their mother, along with a huge tub of Kerrygold butter. Never in my life had I ever experienced either, so I toasted a slice of the raisiny bread and slapped a generous pat of butter on top. The butter seeped through the bottom of the warm toast, and the instant I took a bite, I became a Kerrygold convert (here's a story on how deep my love runneth) and a soda bread supporter for life. I distinctly remember returning for seconds and thirds of the comforting bread, soaked in the liquid gold. The memory of that bread lingered for years, and I knew I had to get my hands on the recipe. I reached out to the sisters, and their mother shared the lovely tale of the bread along with the recipe.
Source: POPSUGAR Photography / Anna Monette Roberts
Nora O'Sullivan Moran's house in Eyeries, Ireland.Source: Maggie Eisenberg
Theresa Moran Eisenberg recounted to her daughters in an email, "[The recipe] is Nora O'Sullivan Moran's, your great-grandmother's. Remember visiting the little cottage your great-great-grandfather built? Nora...