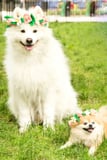 Calling all pet owners! Flower crowns for dogs are real, and now you can get one that they won't destroy. Made by the inventors of BarkBox, BARK - a leading source in everything dog-related - this plush Flower Crown ($12) is a playtime dream and the perfect photo op accessory. It's no secret that our fluffy friends want to do everything with us. And, while it's nice to have a companion on walks through the park (or just someone to howl at the door while you're in the shower), it's also nice to occasionally be able to match with our pets, too.

Related: This Inflatable Jacket Vacuum Dries Your Dog When They're Wet, and OMG - This Is Coming Home With Me Now
It stretches (up to 16 inches), it squeaks, and it makes any pup look ready for a warm-weather family gathering. So, whether your four-legged friend is big or small, just imagine how adorable they would look wearing flowers on top of their head while playing in the yard or even posing for a (hopefully, matching) family photo.