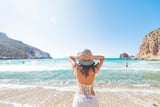 OK travelers, real talk. Have you ever gotten home from a big trip only to think about all the little things you would've done differently? Or maybe it took a few days to shut off your brain and fully get into relaxation mode? Either way, sometimes it takes a little doing to find your vacation groove. (Been there!)
We call it Spring break because that's exactly what it's supposed to be - a break. It's a chance to escape any stresses of daily life and treat yourself to some much needed (and deserved) R & R. In fact, a recent study shows that taking a vacation helps to eliminate stress and can even prolong your life. So when you embark on this season's big getaway, remember the goal is to squeeze every ounce of enjoyment from your seaside escape, West Coast road trip, excursion to a new country, or whatever your plans might hold. It's for the sake of science, after all. To help you fully unwind, we linked up with travel experts to share their foolproof secrets for making the most out of the big Spring getaway.
Related:
15 Awesome Kid-Friendly Resorts to Take Your Family...