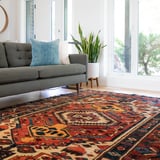 Area rugs can add a lot of style and function to almost any room. Put one in your kitchen to keep your feet comfortable while you're cooking or doing the dishes; make one the focal point of your living room while amping up the coziness; or put one next to your bed so you feel the plush, soft comfort when you swing your feet onto the floor every morning. And, of course, they can help you distract from that ugly flooring in your rental. But while area rugs are useful and beautiful, they're not immune to mess, and can attract all manner of grime, crumbs, spills, stains, and dust. The good news is, because they're so portable, they're pretty easy to clean with the right know-how. Here's what you need to do.
Related:
How to Get Rid of Ants in the Kitchen - No Chemicals Required
1. Vacuum Both Sides
With carpet, you can only vacuum one side, potentially pushing dust and crumbs further into the fibers rather than sucking them up. An area rug, on the other hand, can be vacuumed more thoroughly on both sides. Vacuum the fiber side first, then flip it over and...