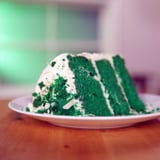 We all know and love red velvet cake, but let's try out a different color: green for St. Patrick's Day! To make this cake elicit even more "mmms" from the crowd, it's iced in a white chocolate cream cheese frosting. We've broken down all the hard parts for you in the video, so you can get to baking and icing a layered cake like a pro.

Green Velvet Cake With White Chocolate Cream Cheese Frosting
Cake from Brandi Milloy, POPSUGAR Food; Frosting from Kraft
Ingredients
For cake
2 eggs
1 cup oil
1 cup buttermilk
1 tablespoon vinegar
1 teaspoon vanilla
2 ounces green food coloring
2 1/2 cups all-purpose flour

2 cups sugar

1 1/2 tablespoons cocoa powder

1 teaspoon salt

1 teaspoon baking soda
For icing
1 (8-ounce) block cream cheese, softened
1/2 stick (1/4 cup) butter, softened
6 ounces Baker's white chocolate, broken into pieces and melted, cooled slightly, plus more for garnish
1 teaspoon vanilla
2 cups powdered sugar
Directions
To make cake: Preheat oven to 350°F. Prepare 3 6-inch cake pans by greasing with butter, adding parchment paper circles to the bottom. Butter the papers and dust with flour, tapping out any excess.
In a large bowl, whisk together eggs, oil, buttermilk, vinegar,...