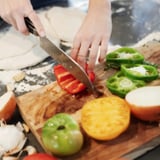 I was fortunate enough to grow up in a house where my mom cooked for our family of six just about every night. My mom is Italian and grew up with seven sisters and two brothers in New York, so her knack for cooking and love of food likely stemmed from sitting down to home-cooked meals with a family of 12 on a regular basis. You could say she knows a thing or two (thousand) about cooking.
Now that I'm an adult and love cooking just as much as she does (I even get paid to write about food!), I'm always trying to master the art of cooking as a 20-something on a budget. I rely on my mom's passed-down knowledge more than I could have imagined, and while she taught me plenty of recipes (everything I know about pasta, I owe it to her) and has answered an embarrassing number of my midcooking-panic questions over the phone, there's one solid piece of cooking advice that has stuck with me the most:
You can make something out of nothing.
As in, you don't need a recipe to cook something, and you don't have to have a full pantry and fridge to get dinner on the table. My mom is the queen of pulling scraps from the fridge and freezer and seemingly magically turning them into a cohesive,...